We're pleased to offer the following services at Huntsville Pet Clinic: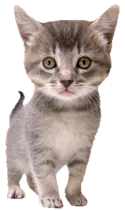 Types of Pets Seen
At Huntsville Pet Clinic, our primary focus of care is for dogs and cats. If you have a livestock, horse, or exotic pet related question, we will be happy to try to guide you in the right direction.
Scheduling: We work primarily by appointment. We offer appointments daily Monday through Friday beginning at 8:30am, and beginning at 9am on Saturdays. We also offer drop-off appointments for your convenience. Our receptionist and staff will attempt to accommodate all requests to the best of our ability.
Immunization & Wellness Care
Yearly or semiannual examinations are crucial for disease prevention and overall wellness. We are able to tailor vaccines and wellness programs to each individual animal and their lifestyle.
Senior Pet Care
Dogs are considered at risk for health problems if he/she is 6 years old and large or giant breed dogs over the age of 5 years. Cats are considered senior if they are over 8 years old. Even if your pet seems healthy there can be underlying diseases. Our goal is to detect any problems early and increase their length and quality of life.
Anesthesia & Surgery
Our veterinarians have years of experience performing routine surgeries such as spays and neuters, as well as more complex soft tissue and orthopedic surgeries. All surgical patient's will receive maintenance fluid therapy, a warming system to maintain optimal body temperature and comfort during their procedure, as well as monitoring of vital signs, during the procedure as well as recovery. We pride ourselves with staying up-to-date with the safest, most effective anesthetic protocols. Our patient's safety and well-being is of utmost importance to our doctor and staff. All surgical patients will have a physical
exam, and minimal lab database work-up prior to their procedure. We offer comprehensive, in-house laboratory bloodwork for all surgical/anesthetic patients.
Dental Care
Dental care is a very important part of a pets overall health. We can provide you with information on how to care for your pets teeth as well as perform dental cleanings and extractions if needed.
Parasite Control Program
Intestinal parasites can not only cause harm to your pets but they can also be transmitted to you and your family. Intestinal parasite screenings are recommended at each puppy/kitten visit, as well as yearly wellness screenings.
Nutritional Counseling
Good nutrition is the key to good health. We can help you determine what type of diet your pet needs. We carry a variety of Science Diet and Royal Canin wellness and prescription diets. And we will gladly special order anything your pet needs.
Microchipping
Many pets each year are lost and never returned to their owners. While we strongly recommend that every pet has a collar with identification tags, these tags can become lost or the collar can be taken off. Microchipping offers a form of permanent identification that will help veterinary clinics and animal shelters reunite lost pets with their owners.
Dermatology
Skin diseases are one of the most common problems seen in veterinary medicine. We are here to help relieve your pet's itchy, painful skin and ears! We also stock and recommend special diets to help with food allergies.
Radiology/Ultrasound Imaging
We offer conventional radiographs (x-rays) on a same day basis. This will allow for the quickest diagnostics and treatment to provide relief to your pet. We work closely with a board certified veterinary radiologist who is available for radiograph consultation, as well as in-clinic ultrasound imaging.
Laboratory
We have a full service laboratory including the ability to perform CBC, blood chemistry analysis, urinalysis and a variety of serological tests. This allows us to have results within minutes versus days. We work closely with commercial and university laboratories for specialized diagnostics and consultations when needed.
In-House Pharmacy
We offer a complete pharmacy as well as over the counter products such as shampoos and nutritional supplements. If we do not stock a needed medication, we can usually order the medication and have it available to the client within a day or two.
Emergency & Urgent Care
Dr. DuVall and his skilled staff are highly trained and equipped to handle any urgent care your pet has. If you ever feel that your pet needs emergency treatment, do not hesitate to call. Emergencies are accepted during normal office hours. We ask that you call ahead if possible, so we can prepare appropriately. If you feel your pet has a problem that is not life-threatening, but seems to be emergent, we will do our very best to fit your pet in the same day, but please understand there could be a wait time. When you arrive, our receptionists will be able to give you an estimate on how long you may have to wait in order to be seen. We understand your time is valuable, and our appointment schedule may be booked. In those instances, we offer drop off appointments. For emergencies that arise after hours, please call and proceed to the Willis Emergency Animal Clinic, the Animal Emergency Clinic of Conroe or Texas A&M Small Animal Hospital. These facilities are well equipped and fully staffed to address emergency medical needs for after-hours treatment and monitoring . See links below.
Behavioral Counseling & Medications
Many animals each year are euthanized due to behavioral problems such as chewing, digging, house soiling or aggression. Our goal is to determine the cause of these behaviors and develop an appropriate treatment regimen. Behavioral problems can be very complex and require an extended to lifelong treatment.
Euthanasia
Euthanasia is a difficult decision for all pet owners. When it is time to say goodbye to your special member of your family, we are here for you. We know how difficult this decision is and we promise to treat you and your pet with compassion and respect. We also offer cremation services, if desired.
For Emergencies and After Hour Care, please refer to the following:
Willis Emergency Animal Clinic
Animal Emergency Clinic of Conroe
Phone: (936) 539-3800
Metro. #: (936) 441–4631
FAX # : (936) 539–1551
920 West Dallas Street
Conroe TX 77301
THE SMALL ANIMAL HOSPITAL AT TEXAS A&M
Small Animal Hospital: (979) 845-2351
Large Animal Hospital: 979-845-3541
465 Raymond Stotzer Pkwy
College Station, TX 77845